Pebbles Paving Installers in Cyprus
Pebbles paving, also known as exposed aggregate concrete or decorative concrete, fast became the number one choice for architects and homeowners throughout Cyprus.
Why is exposed aggregate concrete one of the most popular finishes at the moment? Because it has very low maintenance, a very hard-wearing surface, and a natural look. Pebbles paving can be compared to a piece of marble or granite transformed by polishing it, which makes it an obvious choice for residential and commercial projects that have large amounts of traffic.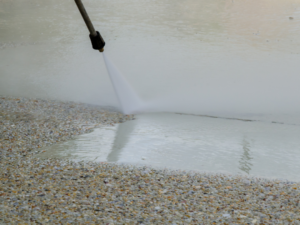 The exposed aggregate concrete finish is achieved by washing the top layer of cement from freshly laid concrete. This "exposes" the decorative aggregate underneath.
The aggregate, which is pre-chosen by the client, is added to the concrete in the concrete mixer and then transported to the job site. The concrete is laid and finished as per normal. When the surface of the concrete is at the desired stage, a liquid retardant is sprayed onto the surface of the concrete. Once the concrete is hard enough to be walked on, the top layer is removed from the concrete exposing the aggregates underneath.
Nowadays there are many different aggregates to choose from and with the help of our team, one can be chosen to suit the look and feel of your project.
Coloured Cement in Exposed Aggregate Concrete – a very appealing option. Coloured oxides of your choice can be added to the concrete when batching into the concrete agitator mixer. When the concrete is exposed, the colour looks very effective, especially when the concrete has been sealed. These colours will vary in price.
Pebbles paving is timeless, elegant and stylish. There is simply nothing like it. The ultimate, affordable solution for your driveway, pool deck, garage, and patio. A unique system that combines pebbles and the Le Decostone Gardens proprietary formulas, to create a premium quality, durable, safe and attractive covering.
While Pebble Mix decorative paving has been started in Australia 30 years ago, architects and designers are taking advantage of its quality to add a touch of class to verandas, balconies, patios, driveways pool surrounds etc.
The Pebble Mix can be used to refurbish old, damaged concrete floors or to provide new hard-wearing surfaces. If laid correctly the Pebble Paving will hold its looks for many years.
Exposed Aggregate Concrete is the ultimate alternative to traditional paving. Its advantages compared to traditional ones are endless. Including the benefits of having no weeds, ants, and hardwearing with minimal maintenance. Most importantly comfortable and cool to walk on. Similar to Stamped Concrete, Pebble Paving will not get weeds as it is one slab of concrete and natural pebbles, which are also UV resistant. Natural pebbles that along with cement make up concrete as a whole. The Pebble Mix provides a compact, easy-to-clean, permanent Decorative finish.
All our pebbles are 100% natural and imported! Each pebble has been carefully selected for quality, shape, size and thickness to ensure a beautifully smooth, comfortable walking surface. The pebbles are mixed with sand and cement and applied approximately 3cm thick. When this applied mixture is almost dry the pebbles are exposed by washing the top layer of cement off.
When landscaping your gardens and outdoor area, Exposed Aggregate Concrete will not only enhance the look, it will also increase the value of your home.