Artificial Waterfalls in Cyprus
Find your Dream Waterfalls and Landscaping Ideas Here
Click on the play button to see our Artificial Waterfall in action.
Direct Link to the Artificial Waterfall Video on Youtube
here
Landscaping Cyprus, Garden Decor, Garden Ideas.
For over a decade, we have been offering realistic looking, high quality, durable artificial rocks and water features. We are rockscaping design specialist that enjoy designing, creating and caring for your garden dreamscape projects!.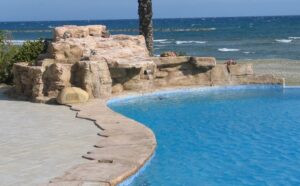 Our artificial rocks and waterfalls are so close to Mother Nature's own that you may have trouble distinguishing which are hers! It is our specialized moulding process that makes it so difficult.
Creating a realistic that can be done in any color you choose, or made to match any existing rockscape on the property, keeping the landscape fluent.
We are proud of our artificial rocks and waterfall designs, and know that you will be satisfied with your faux rocks and waterfall creations! In fact, we guarantee it!.
Our rockwork is created to your exact needs, custom made, unique and artistic landscape designs feature natural settings, coherent to the environment in which they are placed. We create our artificial rocks out of either GFRC (fibreglass reinforced concrete) or cement. Depending on the project we might take moulds off existing rocks, so that we can duplicate the exact look you are seeking. Fake rocks don't have to look fake!.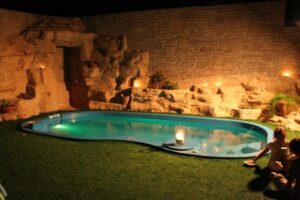 The running water is one of the most soothing sounds to create a peaceful atmosphere.
If you consider how much money you spend on holidays merely to take time out from stressful jobs and chaotic lives, the price of a pleasant paradise in your backyard with a waterfall and pond is well worth it. Invest in your home!.
We believe our artificial rocks are the best quality. All our artificial rocks are custom made to blend into your existing landscaping. Have you ever wanted to do something spectacular to your home? We can help make that dream a reality. The only limits are your Imagination.
Contact us! We can make it happen for you and create your private paradise!
Landscaping your dreamscape, just as you want! Here they are, Artificial Rocks that even your neighbour won't be able to tell if it's real or fake….